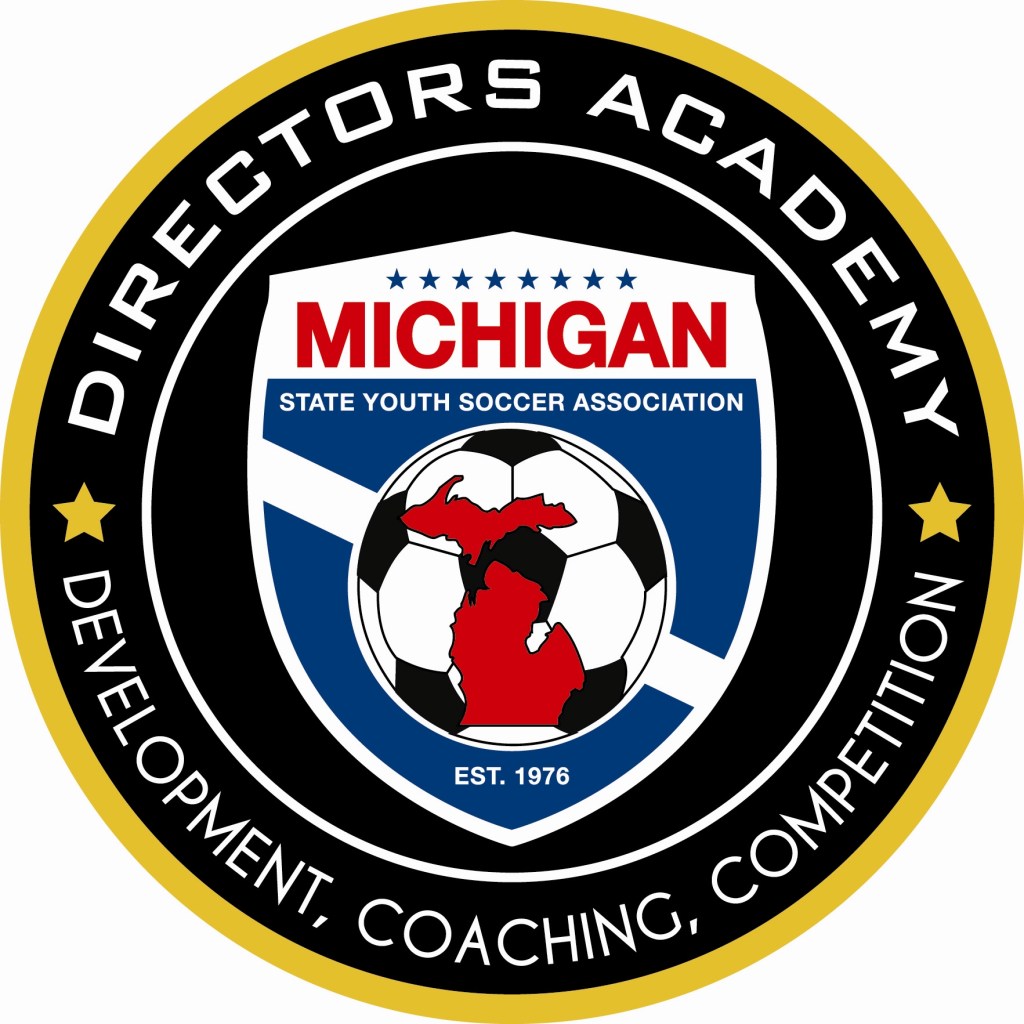 For clubs and teams currently participating in the DA Program, OR who are interested in the 2024-2025 seasonal year, please click here.
About the MSYSA Director's Academy
The Director's Academy (DA) is a statewide program of the Michigan State Youth Soccer Association. Entry to the DA is only for clubs who meet the requirements set forth in the DA application. Directed at the U11 and U12 age groups, the program focuses on club, team, and player development through coaching education. With this focus in mind, DA clubs and coaches are held to a higher-than-average standard. All rostered coaches, assistant coaches, and trainers must meet minimum coaching license requirements, and head coaches must attend at least one MSYSA approved coaching education event each year. As the best environment for player development is during training sessions, coaches may be asked to submit seasonal training themes, blocks and schedules for review by MSYSA. Acceptance into the DA is highly selective. MSYSA looks at the club's structure, player programming, player development, coaching development, and history of participation in MSYSA programs and events. Based on this information, clubs are given a score at the time of their application. If a club does not receive a passing score, MSYSA will provide guidance on changes needed to obtain a passing score. Most clubs will not be accepted the first time they apply. However, if they make the changes suggested by MSYSA, they may earn DA acceptance as quickly as a year or two. Once accepted into the DA clubs will be subject to periodic reviews. The reviews may include an analysis of their player development structure, coach development program, their training & game environment, club administration, the facilities they utilize, and the Soccer Respect campaign.
All clubs, coaches, and parents are encouraged to read the information posted in the links below. Many of these concepts help shape the MSYSA Director's Academy:
http://changingthegameproject.com/
http://changingthegameproject.com/why-kids-quit-sports/
Structure & Format
The Director's Academy offers competition at the U11 and U12 age groups. Both age groups play 9 v 9. After communication with each club's Director of Coaching, teams will be placed into ability appropriate tiers. By placing teams into tiers the goal is to create a competitive game environment that provides teams with meaningful games.
In all age groups, teams are scheduled to play approximately 8 games in the fall, and 6 games in the spring. All teams will also play in the Junior State Cup (spring). In keeping with the philosophy of the DA, there is not a public posting of U11 and U12 DA league scores (see below).
Director's Academy, Junior State Cup, and the National League Conferences
All DA teams are required to play in the Junior State Cup. U12 teams can endorsement to the National League Conferences at U13 by finishing in the top eight of the Junior State Cup (Division 1). Additionally, the top 2 teams in the DA spring league who were not Junior State Cup Quarterfinalists can also earn endorsement.
Selection into the Director's Academy
eams are NOT selected for the Director's Academy. Instead, clubs are selected for participation. When reviewing club applications, MSYSA will largely be looking at the club's structure, player programming, player development, coaching development, and history of participation in MSYSA programs and events. A very good team who belongs to a club that does not meet MSYSA standards for the DA will not be accepted. Clubs interested in having one or more team participate in the DA must submit their club application and payment by 12:00 Noon on/around March 31 each year for the following seasonal year. On the application, clubs will specifically indicate which teams they want to put in the DA. MSYSA prefers when clubs have at least four competitive teams proposed for participation. Once accepted into the DA, there are no refunds.
Benefits to Individual Players
The DA is not for everyone. However, the training and game environment we help establish for clubs at the U11-U12 age groups will help coaches provide a developmentally appropriate platform for players to enjoy the game and continue to improve. Because DA coaches must meet minimum licensing requirements and because they must attend coaching education events annually, these coaches in general have a better knowledge base and are better equipped to train competitive youth players. For players who are serious about their development and aspire to play at the highest levels in US Youth Soccer, the DA program is the best option for them in Michigan. If you are a parent interesting in having your son or daughter play in the Director's Academy, please contact the DA clubs directly for tryout information.
Costs of Playing in the Director's Academy
The annual fees are $1,170 per team. Among other things, this covers the Junior State Cup, coaching education subsidies, and player & coach registration fees (which includes secondary medical insurance). Other associated costs not included in the annual per team fees are referee fees, host facility rental fees (if applicable), and travel fees to/from games.
Travel Involved in the Director's Academy
The Director's Academy is a statewide program, and as such, you will be expected to travel outside your immediate community. There are currently DA clubs in the Metro Detroit, Grand Rapids, Kalamazoo, Lansing, and Traverse City.
Scores/Standings
All too often, success is measured by the number of wins and loses racked up in a season. In the DA, the focus of each club and of each coach should be development. Among other things, this means teaching players age appropriate techniques and tactics as well as training the physical, psychological and social aspects of the game. To do these things successfully, it is expected that coaches and players will sometimes fail and will sometimes lose games because of it. However, failing is an important part of the learning process. We understand that game day is part of the developmental process for players and coaches, however, the pressure to win does affect how players and coaches perform. By not posting scores publicly at the U11 and U12 age groups, we hope to minimize the pressure on coaches and the youngest players to win games so that they can instead focus on developing.